My daughter loves headbands. One thing I noticed as soon as she started collecting them was that they are hard to store. I tried tossing them in a drawer, but they got tangled up. I tried stacking them on the dresser but they got knocked over. I thought about hanging them on the wall, but I just wasn't happy with that solution either. So I put my thinking cap on and came up with this:
A can of oatmeal is the perfect size! Here are the steps I took. I apologize for not having pictures of each step, but this was SO simple, I know you can do it too!
1) empty out oats. ;)
2) Spray paint can lightly inside and out to increase durability.
3) I used two 12x12 scrapbook pages and Mod Podge to cover mine. (you wouldn't have to)
I just folded the paper over the bottom edges and glued it down to make the bottom smooth. It is not perfect since the seam of the can shows through, but you will never notice it because soon it will look like this:
And the best part? The can also makes a great storage spot for rubber bands, which I also had trouble keeping neat!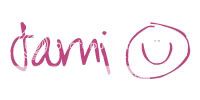 I am linking up here: