I am republishing this recipe because I have been SOOOO in the mood for these lately. Yummy!
A few weeks ago, I decided to bake up some more pink-a-licious loveliness for a good friend of mine's birthday. It was so hot out that I decided to skip the heavy chocolate cupcakes I had had in mind and go for something more "summer-y". And so I chose:
I had seen a few versions of these on the internet, but none really flipped my skirt, so I made up my own.
Here's what you'll need to re-create these:
1 box Lemon Cake Mix
3 eggs
1 stick of butter (1/2 C)
1 cup of water
1/8 C strawberry jello powder
4-6 fresh strawberries, stemmed and chopped
I started with
Saucy's recipe
for cupcakes, which is the first 4 ingredients listed. To that, I added 1/8 C powdered jello and the chopped strawberries.
Honestly, this was too easy. I kind of feel bad, now that I think about it.
Bake until done. You know me, I didn't time it, but it was 18 minutes or something. Follow the box directions and keep watching and testing till you are satisfied.
The cake was super yummy!
But I can never leave well enough alone.
I had to make some super awesome frosting to pipe on top.
So I did what any respectable, made-from-scratch chef does: I cracked open a can of pre-made lemon frosting and dumped 1/2 of it in the Kitchenaid! Then I softened about 4 oz of cream cheese in the microwave (Martha Stweart's got nothing on me, baby!) and added that to the frosting, dribbled in a few drops of vanilla extract and enough powdered sugar to stiffen it up nicely. I don't know, say 1/2 C, a cup? Just start slowly and stop when it looks about right. Use milk to thin it if you go overboard. Or vodka. Whatever.
If you try this, you have my permission to outright eat the remainder of the can of frosting. You totally deserve it.
I decided to garnish with strawberries, which I do NOT recommend unless you have teensy tiny Smurf sized berries that you can use whole. Mine we regular sized, so I cut them, causing the juice to drip and discolor my pretty yellow frosting. I tried dipping them in white chocolate to stop the bleeding, but it would not stick to the cut (wet) side. (
duh!
) Also, I tried dying my chocolate pink, but the dye reacted to the chocolate and made it all clumpy. They were still tasty, but I'm just keeping it real here. Not everything we do turns out perfect*.
Also, pretty much everyone agreed while the frosting was amazing by itself, it was too sweet piped on so thick. Don't get me wrong, it wasn't wasted, but I ate them separately. LOL I might suggest a simple cream cheese frosting next time.
I saw another blogger (whose information I have forgotten now) use a cut piece of a drinking straw to garnish her pink lemonade cupcakes. They were adorable! I wish I'd though of that!




I am linking up with these fine blogs: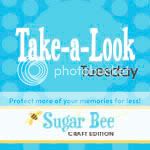 *or perfect-ly, for that matter ;)